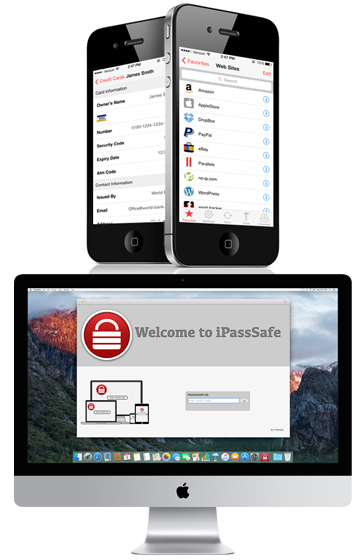 iPassSafe Advanced, Discretionary Database Security
Since your iPhone and iPad function more and more as PCs and/or MACs include a lot of personal data, it is of critical to protect them against unauthorized access.

iPassSafe is the most advanced software application that provides data encryption and protection based on the most severe, international security standard (AES-256), along with rapid and efficient data operation.
In Conclusion
Very quickly this application will become one of the most useful ones that you have in your iPhone, iPad or iPod by combining the capabilities of numerous applications.
Specifications
Main Features
Safari Browser
One Click Site Access
Which one of us is not worn down and frustrated by constant requests to input password codes for the bank, forums, health funds, members' clubs etc? Not to mention even sites making it mandatory to input data to three fields.
iPassSafe provides automatic one-click website entry, without inputting the username or a password.
Website Icon Import
This provides automatic, dynamic and direct access to website icons and thereby allows rapid, visual location.

Important Note:
This technology provide comprehensive access and should cope with access to any website.
All access data and passwords remain encrypted in your iPhone/iPad
No intermediate server. Connectivity is direct between your iPhone and its individual server, whether it is a bank or another website.
Contacts
Does anyone have unsolicited or unwanted contacts in his address book?
iPassSafe directly imports only those selected contact telephone numbers and encrypts them while allowing direct dialing or texting.
Camera
Who does not need a photo/personal document?
iPassSafe is capable of taking photos of scenes and documents directly without the need to access a main photo gallery.
Similarly photos may be imported from a main gallery to this application and these will be added to data after being fully encrypted.
Password Generator
Since this application saves passwords and even inputs them to websites, it is unnecessary to choose a particular password such as David123 or even to use the same password, which is an insecure habit, for a number of sites.
The password generator produces a random and unique password for you for each website.
A Wide Range of Built-in Categories
iPassSafe provides rapid data access using preset suitable, easily learnt icons for credit card details, e-mail accounts, websites, reminders, private contacts, bank accounts, computer access codes, safe codes, IM or Skype chat accounts, FTP sites, photos and more.
Data Communications for Backup and Synchronization
Built-in FTP Server
You can access this product's encrypted database from a computer using the application's operating button when you want to encrypt or backup via WIFI connectivity.
DropBox Storage Service is available for free to the user with up to2gigabytes, thus allowing PC to PC, iPhone and iPad file co-operation.
iPassSafe is authorized by DropBox and has even received a unique ID for identification via its server.
Syncronization
Let's say you took with your iPhone a photo, or added a password during the day, and in the same evening you go out to the coffee shop with your iPad, with one click on your iPhone and another click on your iPad all data will be transferred via the cellular network or WIFI without requiring a computer or nearby access to a PC.
Backup
Let's say the application has been deleted, don't worry! It can be reinstalled immediately for free from "Appstore". By inputting your access password for your Dropbox account and the encrypted iPassSafe file password, your saved data will be restored to your device without requiring a computer or nearby access to a PC.
Support for Numerous Files
This is especially useful when there are various users for example on a family iPad, when each file requires its own password to allow access.
One file actually contains all the data on the user with each piece of data located inside under an encryption whether it is a credit card number, a telephone number or an image.
Data Security
This application has received data encryption approval by the appropriate authorities in the USA for AES-256 STD which is recognized as the severest standard.
This standard is approved by the US government for top secret data transfer
It contains automatic data deletion following failed attempts as in the case of a stolen product.
It also contains automatic shut-down following a defined period of non-use.
Supporting Products
iOS 9.0+ , Mac OSX 10.11+ devices.